What are we looking for?
Are you a survey company looking to take your business to the next level? Embrace the future of automation and robotics with the Solid-3D Partner Program! As a certified partner, you'll have the opportunity to deliver cutting-edge robotic solutions to your customers and unlock a world of exciting opportunities.
Why Partner with Solid-3D?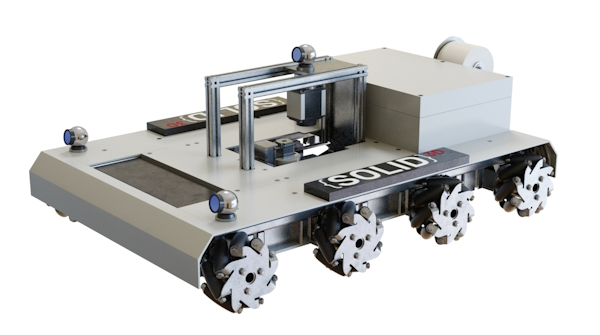 1. High-Precision Robotics: Solid-3D's Mark.One robot is at the forefront of innovation, offering high-precision positioning with under-millimeter accuracy. Empower your customers with next-level efficiency and accuracy in their warehouse and manufacturing operations.
2. Geographic Exclusivity: Gain a competitive advantage in your region with geographic exclusivity. As a certified partner, you'll be the go-to provider of Solid-3D's robotic solutions, ensuring your market leadership.
3. Lucrative Revenue Share: Earn significant revenue share from project implementations. Leverage our advanced robotics technology to create a lucrative revenue stream for your business.
4. Comprehensive Training: Our certification program equips you with in-depth training on operating the Mark.One robot, QR code pasting, and customer service excellence. Become a robotics expert and deliver top-notch solutions to your customers.
5. Ongoing Support: Benefit from dedicated support and resources to assist you in every step of the way. Our team is here to ensure your success as a Solid-3D partner.
6. Co-Branding Opportunities: Enhance your brand image with co-branded marketing materials. Leverage Solid-3D's reputation and industry expertise to build trust and credibility in the market.
7. Qualified Leads and Referrals: Solid-3D provides qualified leads based on your designated region. Take advantage of our lead generation efforts and expand your customer base.
Join our partner program
Take the next step in your business journey and become a certified partner with Solid-3D. Together, let's transform the automation landscape and revolutionize warehouse and manufacturing operations. Join our growing network of partners and experience unparalleled growth and success.