Overview: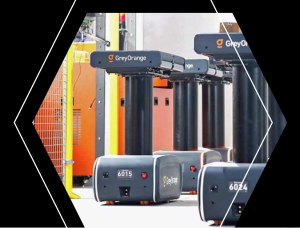 GreyOrange is a global leader in automated robotic fulfillment and inventory optimization software. They approached Solid-3D to help with a project for one of their UK-based customers. The project involved deploying 2000 codes on the floor, which required high-precision placement and accuracy to be used by their AMR solution. Solid-3D's advanced barcode pasting robots, Mark.One, were used to complete the job.
Challenge:
The project required the placement of 2000 barcodes in a precise and accurate manner on the customer site. The traditional method of manual barcode pasting would have been time-consuming and prone by human error. GreyOrange needed a solution that could complete the job quickly, accurately, and efficiently.
Solution:
Solid-3D's Mark.One robots were used to complete the project. The robots were able to complete the job in half the time it would have taken humans, while maintaining a high level of accuracy. Marcel Queng, the project manager from GreyOrange, was impressed with the accuracy of the barcode placement and noted that GreyOrange AMR's were running smoothly over the newly placed codes. The project was completed on time and with minimal disruptions to the customer's operations.
Results:
Thanks to Solid-3D's advanced barcode pasting robots, GreyOrange was able to complete the project in a timely and efficient manner. The customer was pleased with the accuracy of the barcodes and the minimal disruption to their operations.
Marcel added: "Working with Solid-3D has been a game changer for our business. The accuracy and efficiency of their barcode pasting robots is truly impressive. Our robots are running smoothly over the codes they've placed, and we've received great feedback from our customers. I've never seen such precise code placement before. Solid-3D has exceeded our expectations and we look forward to continuing our partnership with them."

Marcel Quang, Senior Engineer, Installation and Commissioning
The success of the project has led to a long-term partnership between GreyOrange and Solid-3D, with plans to collaborate on future projects.